Virtual Summit
Breakthrough 2021 Equipped For Success
As entrepreneurs, moms, wives, sisters, daughters and friends; it's easy to lose yourself in the madness of life, business and responsibilities.
But now is the time to focus on living intentionally, focusing on what's most important, choosing YOU above all else, and fulfilling every aspect of your abundant life with ease.
What's included?
We will help you unlock your inner potential so you can excel in your professional field. Some of the benefits of our trainings are:
Taming the Joy Stealing Dragons in Life and Business

Undeniable You: 7 Steps To Soar

Walking in Confidence

Getting Started with a Profitable Email Marketing Strategy

20 Steps to Entrepreneurial Success

Understanding Narcissistic Attraction & Abuse; Healing from Toxic Love To Be the BEST You in Life & Love
Our speakers
Meet our Speakers
Myrtha Dubois
Personal Growth & Development Strategist
Company:
Myrtha Dubois Coaching Consulting
Presentation title:
Undeniable You: 7 Steps To Soar
Reaffirm Your Posture
Rebuild Your Confidence.
Redeem Your Worth.
Linda Shively
Chief Joy Officer
Company:
Linda Shively
Presentation Title:
How to Tame the Joy-Stealing Dragons in Life and Business
Discover the magic ingredient to blast through overwhelm and stress
Learn the hidden secrets to finally getting out of your own way
Instantly take charge of your time and finally get into meaningful action
Amy J. Bryant
CEO / Chief Copywriter
Company: The Write Place, LLC

Presentation Title:
Communicating with Poise, Power, and Professionalism
Beth Silver
Small Business Marketing & PR
Company: Doubet Consulting

Presentation Title:
BE YOUR OWN GLOBAL POSITIONING SYSTEM (GPS)


Paulette Harper
Pastor, Coach, Author
Company:
Paulette Harper
Presentation Title:
Mindset
MindShift
Fixed & Growth Mindset
Keys To Rising Above Adversity & Soaring Into Success

Munira Zunabi
Niche Navigator
Helping business-preneurs discover their niche

Presentation Title:
Network to Niches
Setting Goals to Success
Strategies Are Sexy
Ciltona Cawthorne
Motivational Speaker and Empowerment Coach
Company: Your Encouragement Sister
Presentation Title:
3 Benefits of An Excellence Mindset
Develop an excellence mindset for increased success and improved mental, physical and spiritual well-being.
Understand that you deserve to be successful.
Access your power, gifts, and potential. You are more powerful than you know.
Candace Stuart-Findlay
Founder / Transformation Facilitator
Company:
Empowered Whole Being Foundation
Presentation Title:
Tap Your Quantum Power: Transform Obstacles Into Opportunity!
Understand the Quantum actuality of you and how that truly empowers you.
Learn how to identify the difference between self-sabotaging and self-empowering behavior.
Receive tools and techniques to Recognize, Identify and Shift behavior to create more Opportunity.
Joyce Jennings
Author, speaker, communication exp
ert


Company: Ms. Chardae
Presentation Title: Boundaries respected represents effective communications


Darin Adams
Communication & marketing expert
Speed to Lead with KEAP
Dr. Chinwe Okudo
CEO, Nurse Practitioner, speaker, coach, author
Company:
Inspired To Become & Excel
Presentation Topic: Lady You Are Enough
We are made just enough as divine creatures here on a heroic mission
If we must be successful as women, we must rise up from our past hurts, rebuild our self confidence & begin to use our pain to our advantage!
Positive self-Esteem is our key to greatness!
Laura Shortridge
Unipreneur, speaker, author
Presentation Title:
Pursue Your Passion Even in a House Full of Dream-Killers
• Prepare – Inward Germination - ways to protect your dream internally as it grows and strengthens
• Present – Outward Expression - develop a strategy to present your dream with the least risk of ridicule or rejection
• Pursue – Onward Expansion - build a network of supporters, develop personal character, and advance your success
Cathy McKinnon
transformation strategist, author, speaker
Company:
Wellness Warrior Coaching
Presentation Topic: Eternal Influence
Refining the major facets of your vision
Achieve compelling growth beyond measure by honoring your purpose
Creating gleaming breakthroughs to honor your excellence
Babita Spinelli
Licensed Psychotherapist & Certified Coach
Company:
Opening the Doors Psychotherapy and Babita Spinelli Group
Presentation Title:
How to Set Healthy Boundaries in Relationships
What are healthy boundaries
What are unhealthy boundaries toxic relationships etc.)
Rigid and fluid boundaries in marriage/romantic relationships
Handling the daily demands of life by setting boundaries
Andreia Dooley
Entrepreneur, speaker
Presentation Title:
Set Your Mind
Know your destination
Move the needle
Be ready to reset
Sheri Simmons
Author, speaker, coach
Presentation Title:
How To Rock Your Self Confidence
Increasing Self-Confidence
How To Gain More Self-Esteem

Special offer
For a limited time!
Join the Infinite Women's Network to access our evolutionary learning system dedicated to growth and development for women.
Join the Network today and receive 40% off of your monthly membership for 6 months.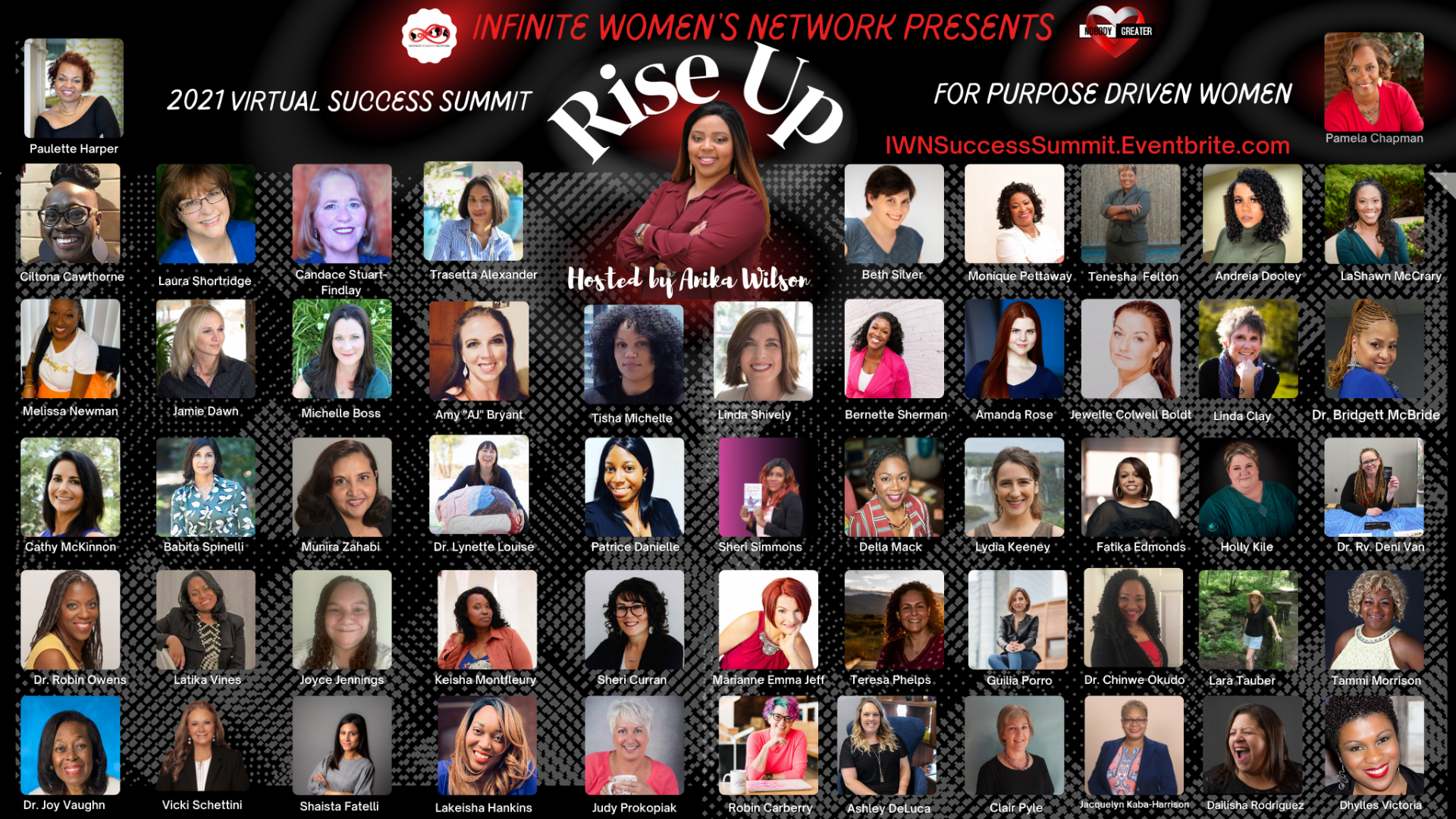 Are you ready to dig deeper?
Scroll Below For More Courses to Help You Soar in 2021
Get exclusive news
Get weekly updates on live streams, news and more right in your mailbox.
Get exclusive news
Get weekly updates on live streams, news and more right in your mailbox.
Created with